About us
---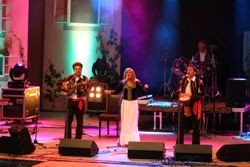 The greek band Mythos is offering live traditional greek folk music and timeless favourites, both instrumental and vocal. Delivering a unique greek experience with traditional greek costumes, instruments, bouzuki, greek melodies and fun greek dance tutorials.
Greek music has always been popular and loved by many music fans. During our concerts you will be listening to the biggest and well known greek hits and doing the famous greek the zorba?? dances such as Sirtaki and Hasaposerwiko??. Our live performance includes a mix of traditional greek music, modern hits and a portfolio of our own greek songs. Mythos consists of experienced and highly talented musicians and vocalists, who spent many years performing in Greece, Poland, Germany, Sweden, France and Holland and took part in unique concerts with leading and well known greek singers such as Demis Roussis, Vicky Leandros, Costa Cordalis, Antique and Bouzuki Band.
The greek band Mythos actively performs live concerts, records albums and takes part in TV and radio shows. Our live music program is perfect for acoustic music events, live music clubs, festivals and celebrations and any other large scale entertainment. Additionally we also provide greek poetry and music shows for cultural events.
Our music performance is also well suited for banquets, balls, conferences, cooperate and business events and educational events and programs. We specialise in running music workshops and greek dance courses for cooperate environments and non-commercial, private requests.
We have our own professional stage lighting and sound equipment and can assist with event organisation and support. What is more, we can provide expert advice on purchasing greek music instruments such as bouzuki, baglamas and tzuras and share valuable tips to help buyers make the right choice.
Join us in the greek Zorba dance today!